The Butler-Grahams of Castle Crine, Sixmilebridge, County Clare:
A pictorial history by Ian Crawshaw
| | |
| --- | --- |
| Title: | The Butler-Grahams of Castle Crine, Sixmilebridge, County Clare: A pictorial history by Ian Crawshaw |
| Type of Material: | Family History |
| Places: | Castle Crine, Sixmilebridge & Kilkishen, Co. Clare; Chelmsford, England; South Africa; Canada; Queensland, Australia |
| Dates: | 1853 - 1956 |
| Family Names: | Butler, Graham, Massey, Butler-Henderson |
| Donor: | Ian Crawshaw |
How I acquired the Photographs

The Butler-Graham Photo Collection 1860s-1950

See also

The Memoirs of K E Graham

The Butlers of County Clare by Sir Henry Blackall


Castle Crine




Sophia Mary Butler (nee Irvine)

James Butler married Sophia Irvine & they produced three daughters:
Anna Francis Butler born 1853 (Anna);
Sophia Mary Butler born 1855 (Sophie);
Henrietta Jemima Butler born 1857 (Henny).
James Butler died in 1857.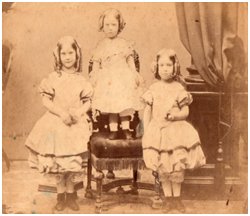 Anna, Henny & Sophie Butler

Sophia, widow of James Butler married Colonel John Higgins Graham circa 1860.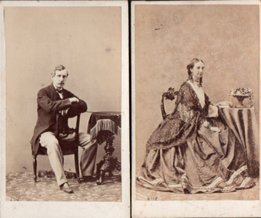 Photographs of Colonel J.H.Graham & Sophia taken in Naples

Colonel Graham and Sophia, produced four children:
John Irvine Graham born circa 1864 (Jack)
Beatrice Augusta Mary Graham born 1871 (Bee)
Edward Francis Irvine Graham born 1872 (Eddie)
Alfred H. Graham born 28.2.1874.


Jack, the eldest of the four Graham children


The three younger Graham children: Bee, Eddie and Alfie


The family grown up:

Anna, Sophie & Henny Butler


Captain Jack Graham of the Royal Navy


Bee Graham


Eddie Graham taken in South Africa during the Boer War


Alfred Graham joined up with the Electrical Engineers at Chelmsford, England

What became of the family?


The grave of Sophia Mary Graham. The inscription reads:
Sophia Mary Graham (nee Irvine) wife of Colonel J.H. Graham & relict of James Butler Esq, Deputy Lieutenant of Castle Crine. Died at Castle Crine 8th May 1887 aged 53 years.
Anna & Henny Butler remained spinsters & lived at Castle Crine until they died in the 1930s. Bee Graham remained a spinster and lived at Castle Crine until Anna & Henny died.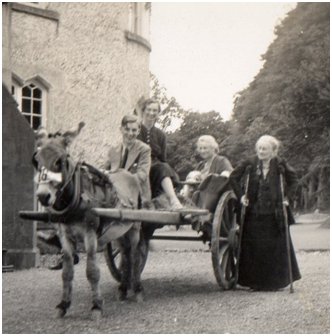 The sisters, now quite elderly, at Castle Crine, 1927.
Anna is on crutches having fallen on George St in Limerick and broken her hip.

Henny was aged about 80 or 81 when she died in 1938. Anna was aged 85 or 86 when she died in 1939. Sophie married Edward Massey the 5th Baron Clarina of Elm Park which is about 12 miles from Limerick. They had four daughters Sophia (Zoe), Susie, Gertrude & Leo.


Sophie died after falling from her carriage in 1912.

Colonel J.H. Graham died in 1910. Jack Graham became a Captain in the Royal Navy. A photograph of himself sent to Henny has "From Jack & Florrie. Dec. 1914" written on the back.
Bee Graham was left in charge of Castle Crine after the deaths of Anna & Henny. It was a large estate which at one time had employed over 100 people.
At some point during World War II the Castle Crine estate was handed over to Sophie's eldest daughter Zoe (by now the Rt. Hon. Mrs Butler-Henderson).

Bee moved to The Old Rectory at Kilkishen and died in 1956 aged about 85.

Eddie Graham was sent by his father Colonel Graham to Queensland, Australia to gain colonial experience at the age of 17. He also worked for a squatter on the Darling Downs. He left there after 12 months & worked on a boat bringing Kanakas (South Pacific Islanders) down to cut sugar cane in Queensland. After this Eddie moved to South Africa where he joined the Natal Mounted Police. When the Boer War started he joined Thorneycrofts Mounted Infantry (the tenth regiment raised in the colony.) Eddie met his wife - originally Beatrice Walton of Halifax - in South Africa shortly before the start of the Boer War, they had seven children two of whom died young. They lived in Canada for a time. Keighley, the fourth child was born in Winnipeg. Eddie also fought in the 1914-18 war. Eddie & his family started farming at Shifnall in Shropshire in 1919, his wife died in 1927, Eddie died in 1956.

Alfred Graham took part in a desert expedition in 1929.

On the death of James Butler of Castle Crine in 1857 the estates devolved upon his three daughters Anna, Sophia & Henrietta as co-heiresses of whom only one married viz Sophia Mary, wife of the 5th Lord Clarina. Lady Sophia Mary Clarina had no male issue, (she had four daughters) and on the marriage of her eldest daughter the Hon. Sophia (Zoë) Butler Massey to the Hon. Eric Henderson the Castle Crine estates were settled upon her, subject to the life interests of her mother and aunts. On the death in 1938 of Miss Anna Butler, the last survivor, Mrs. Zoe Butler-Henderson (who with her husband assumed the name of Butler in addition to that of Henderson) succeeded to Castle Crine. Her daughter, Mrs. Wordsworth resided there until 1951, when the place was sold. The latter's husband, Col. J.G. Wordsworth, is a descendant of the poet. Castle Crine was demolished in 1955.

The Photographs

Cabinet portraits & carte visites c1860 to c1880


Larger portraits & views from 1860 up until the 1930s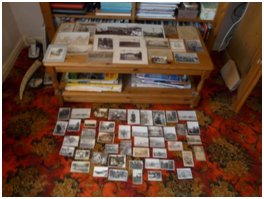 Photographs from the first half of the 20th Century

Conclusion:
I bought these photographs from a second hand book shop in Ilkley, West Yorkshire, in the 1970s & up until the beginning of this year (2014) all I knew about them was from the gravestone of Sophia Mary Graham & the names written on the backs of the photographs. In January 2014 I discovered The Memoirs of Keighley Edward Graham 1904-1974 on the Clare County Library Website. Keighley was the son of Edward Francis Irvine Graham (Eddie in these photographs) and all the rest of the information written above is from these Memoirs. Keighley emigrated to Australia in 1928. His daughter Elizabeth and grandchildren and great grandchildren live there still.