The Family of Austin (Augustine) Carrigg of Ennistymon, County Clare
| | |
| --- | --- |
| Title: | The Family of Austin (Augustine) Carrigg of Ennistymon, County Clare |
| Type of Material: | Family History |
| Places: | Ennistymon; Attycristoria; Dublin; Australia. |
| Dates: | 1816 - 1911 |
| Family Names: | Carrigg; Finucane; Herbert; Flanagan; Fitzgerald; O'Donohue; McDermot; Harte. |
| Transcriber/Donator: | Rosaleen Underwood |
Austin Carrigg of Attycristora and Ennistymon, butcher, farmer and keeper of the local Bridewell, was also one of the local enumerators for the Royal Commission of Inquiry into the Conditions of the Poorer Classes in Ireland[1] set up in 1833 which resulted in the setting up of the Poor Law Unions and workhouses. Probably born ca1780-90, he married Bridget Finucane.
Lewis's Topographical Dictionary of Ireland[2] published in 1837 describes Ennistymon as a picturesque town which once had 'a considerable market for strong knit woollen stockings purchased in large quantities by dealers for supplying to Dublin and the north of Ireland.' However, the introduction of machinery led to the decline of local industry which by the 1830s only supplied the home market. Many of the Carrigg girls (found in marriage certificates and census returns) worked as drapers and dressmakers — availability of work or something in the genes — as did later members of the family.
Ennistymon was originally part of the Roman Catholic parish of Clooney with records starting in 1820. Unfortunately, the first 10 years or so are apparently very bad and many are illegible. It also appears that there are many gaps in the records, especially marriage records, since many records relating to the family were not found. They are in the custody of the Clare Heritage Centre in Corofin. Records for the parish of Ennistymon start in 1870.
Only one baptismal record was positively identified as a child of Austin and Bridget. This was Hugh, born in 1827. Other children of this family were later identified by their marriage records. These were Mary ca1829, Anne ca1838, and Michael. According to family tradition, John was also of this family, and there were probably others.
John (ca1816-1890), originally a farmer, but later a publican and shopkeeper, married Mary Anne Herbert (ca1820-1902). No record was found of this marriage. Their children were :
Margaret 1844
Austin ca1846
John 1848
Bridget 1849 married Thomas Flanagan, a shop-keeper of Ennistymon in 1867.
Their children were :
Michael Pat 1868
Mary Jane 1870
Charles 1872
John Thomas 1874
Henry 1876
Thomas Joseph 1880
Bridget Mary 1882
Joseph 1884
Patrick J 1885
Alfred C 1887
Theresa M 1888
Other children of John Carrigg and Mary Anne Herbert were :
Patrick 1851
Michael 1853
? 1855
Charles 1860
Joseph 1862
Thomas 1863
Mary Margaret 1866
Margaret (Maggie) 1868—1906 married George Fitzgerald from Kerry, a sergeant in the RIC based at Lehinch, who appears to have left the RIC rather than be posted elsewhere.
Their children were:
Thomas Michael (John) 1890
Helen Chris (Ellen) 1891
Mary A ca1893
Francis H 1895
Thomas George 1897 died aged 6 months
Nora 1898
Margaret 1899
Maggie 1901
Catherine 1902
Josephine 1906.
John and Mary Anne Herbert's son, Austin, emigrated to Australia, married Margaret Flanagan[3] in Toowoomba in Queensland in 1865, and had two children :
Catherine Cecelia born 1866, married George William Pottinger in 1897;
John Joseph, a draper, born ca1868, died before 1914 ? married Ellen Mary Hogan in 1891 in Queensland, and had a son Austin Joseph born ca1893 who served in the Australian Army in the First World War, was discharged in 1918 after being gassed, and died in 1921.[4] John and Ellen may have had other children.
John and Mary Anne Herbert's son, Michael born 1853, was also a shopkeeper, probably a small grocer, but at the time of his death in 1931, it was a typical rural bar-cum-grocery business. In 1878, Michael married Catherine Griffin; they had ten children :
John 1878
Mary Catherine 1879
Bridget 1881
Margaret 1882
Helena 1883
Anne J 1885
Susan Mary 1886
Bridget 1888
Patrick 1889
Catherine 1891.
Michael and Mary Carrigg, 1929
Catherine died (no record found) and in 1894 Michael married Mary McGuire who gave him another twelve children, some of whom died young :
Michael 1895
Thomas Joseph 1896
Austin, January 1898
Thomas Francis, December 1898
Joseph 1900
Elizabeth 1901
Charles 1902
Joseph 1904
Margaret C 1905
Michael 1907
Etta Mary 1908
Lily 1911
It is believed that most of these children emigrated to Australia also.
Mary, daughter of Austin Carrigg and Bridget Finucane, was married to Francis O'Donohue (no record found), a local builder, described as an architect on his death record in 1895 who, according to the Cancelled Valuation Books, seems to have built most of the town, and had the following children:
Bridget 1857
Thomas 1859
Jane ca1861
Mary ca1863
Michael John 1865
Francis Pat 1867
Austin 1869.
There may have been other children in the family.
In 1885, Jane married Cornelius McDermott, a doctor. (His father, also Cornelius, was a school teacher according to Jane's marriage record.) Their children were:
Catherine Mary (Kathleen) 1887, married ? and had a daughter ?
Mary 1889
Cornelius FJ 1890 (died 1895)
Helen Frances (Aileen) 1891
Honora Mary (Nora) 1893
Francis A (1894) died young ?
Eva Maria 1896.
Jane's husband, Cornelius, died in 1895, leaving her with a young family. She took in boarders, and her widowed cousin, Thomas in Dublin helped her by paying for the children to go boarding school with his children in Dublin, and having them to stay during Christmas and Easter holidays when it was too far to travel all the way to Ennistymon for a short period.
In 1864, Anne, daughter of Austin Carrigg and Bridget Finucane, married John Harte from Co. Limerick, an RIC constable stationed at Ballyvaughan. Because the RIC were not allowed to be posted to their own native county or their wife's, he was then posted to Union Hall in Co. Cork where their children were born:
Joseph 1865 died unmarried ca1937.
John 1866
Mary 1868
Annie 1870 married James Foley, also in the RIC.
They had three children :
Jack, a priest on the missions in China and Hong Kong
Rita
Nan.
Augustine 1872
Henry 1876 married Minnie Whyte in Dublin in 1905 but he was recorded as a widower in the 1911 census.
Joe and Henry are believed to have worked as agents for Arnotts in Dublin. Nothing is known of John, Mary or Augustine (Austin) who probably died as children.
Hugh (1827—1901) succeeded his father as Keeper of the Bridewell and married Bridget Garrihy (died 1897) in 1866. Their children were:
Mary 1866
Austin 1867
Bridget 1869
Anne 1870
Susan 1872
Margaret 1873
Elizabeth (Lizzie) 1875 married Henry Mills in 1910
Jane 1877.
Michael, son of Austin Carrigg and Bridget Finucane, year of birth unknown, married Susan O'Dwyer in 1868. No children of this marriage have been found in Ireland but it is very likely that Michael and Susan emigrated to Australia as many of the Carriggs are known to have done. In 1844, Michael's son, Thomas Joseph was born to Mary McCarthy, the parents being noted in the register as unmarried. No other record of Mary has been found in the Ennistymon records but McCarthys were recorded at Calluragh East, outside the town, in Griffith's Valuation in 1855. Whoever reared Thomas, he maintained close contact with his father's family and it is very likely that they paid for an apprenticeship for him with one of the large drapery or department stores in Limerick, Galway or Dublin. He later became a buyer (head of department) in Cashmeres with Arnotts department store in Dublin. Thomas married Arabella Bloomfield, born in Woolwich to a cooper from Limerick, Stephen Bloomfield who joined the Royal Artillery as a bombardier, and his wife Jane Harley. Arabella died one week after the 1901 census, a few days after the birth of her last child who also died. They had four other children :
Thomas Bloomfield, an amateur boxer and electrical engineer who worked on the electrification of O'Connell Street, married Gretta Moore, their son Austin died in infancy;
Florence Rose (Florrie) who married Horatius Ewart Patrick Marshall (Ben for short) and moved to London and had a daughter called Rhoda or Sheila;
Austin Joseph was a civil servant and rugby player, capped for Ireland but injured before he got the chance to play, and married Ellen Meade. They had one daughter called Marie Arabella after her grandmother.
Eileen married Jack Green and they had four children, Betty, Vera, Jack and Irene, all of whom married and had children. Vera lived in France.
Many of the Carriggs, of all generations and branches of the family died young as can be seen from the duplication of names within each family. According to family tradition, many of the family went to Australia (Austin has already been found in Toowoomba, Queensland), although some may have gone elsewhere, maybe not even as far as Dublin. Birth, marriage and death indexes in the General Register Office bear this out, there being plenty of Carriggs in the indexes at the start of Civil Registration for births, deaths and Roman Catholic marriages in 1864 but very few by 1900.

Click on image for larger version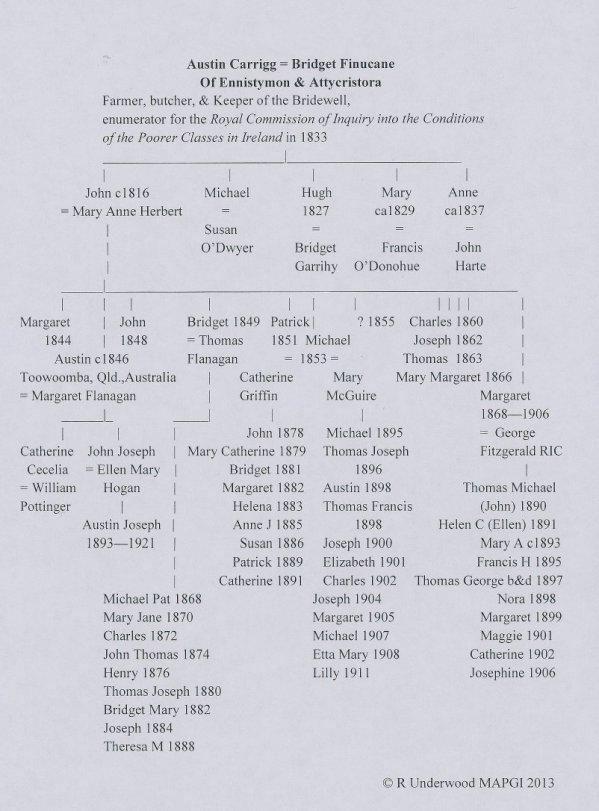 Click on image for larger version
Footnotes
1. Extracts, i.e. the testimony of the witnesses, were published in Poverty before the Famine, County Clare 1835, Clasp Press 1996.
2. A Topographical Dictionary of Ireland by Samuel Lewis, vol.1, pub. 1838.
3. It is not known if she was related to Thomas Flanagan who married her husband's youngest sister, Margaret in 1868 but probably not. www.familysearch.org
4. Recordsearch.naa.gov.au

Sources
Clare Heritage Centre, Corofin
1901 & 1911 censuses, civil records, family information, Paul Carrigg in Australia.

© Rosaleen Underwood 2013
See also:
Notes on 'The Family of Austin (Augustine) Carrigg of Ennistymon, County Clare' by Dixie Ingram