Jeremiah Hayes, Gortmagee, Killaloe

Birth certificate for twins Jeremiah and Catherine Hayes, Killaloe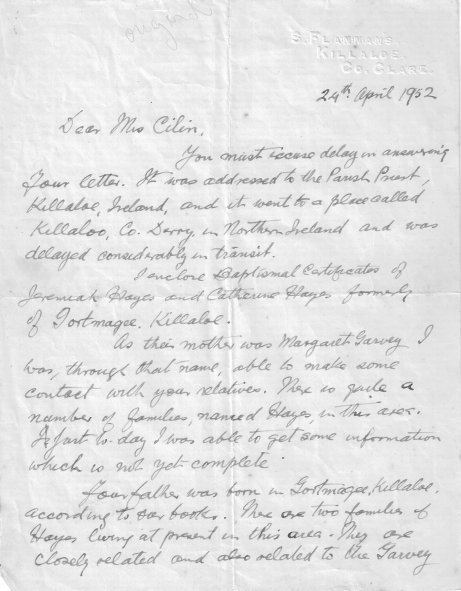 Letter of Parish Priest accompanying birth certificates, p.1


Letter of Parish Priest accompanying birth certificates, p.2

Obituary of Jeremiah Hayes
The Tarnagulla and Llanelly Courier
Saturday October 31 1908

We regret to announce the death of another old pioneer of this state in the person of Mr Jeremiah Hayes of Llanelly, which sad event occurred yesterday morning after a long illness.
Mr Hayes who was a native of County Clare Ireland was 78 years of age and has been a resident of this State for 57 yrs, 45 of which has been spent in this district.
Mr Hayes has been suffering for a long time and his end was not altogether unexpected.
He leaves a widow and Grown up family of 9 children all of whom have the deepest sympathy of the district.
The funeral will take place at the local cemetery this afternoon moving from the deceased's late residence at 2 o'clock.