This is the story of three intermarried Catholic Merchant families in Clare and Galway. All had interests in corn production, milling and (John Kelly of Kilrush) export or baking (Mangan, Gort and Galway). All were very successful early to mid 1800s until their businesses were severely impacted by the famine and by the repeal of the corn laws in 1846. Local mills vanished, corn was not grown and flour was not produced locally. Some (the Tuam) Kellys had previously made money in linen production late 1700s and early 1800s during the Peninsular wars.

In 1852 Charles Kelly (1831-abt 1898) of Tuam, Galway, eldest son of Patrick Kelly (abt 1799-1873), Grove House, Tuam married Honoria Mary Kelly (1830-abt 1900) of Kilrush, Clare in her father's drawing room at Ballyerra House, in Kilrush. The bride's uncle, Father Timothy Kelly, married the couple. Lancelot Spencer (Lot S.) Mangan (1823-1901) of Gort, was Charles' witness. Honoria's father was John Kelly (abt 1797-1865), corn, bacon and butter merchant and exporter and shipowner (the Lady Grace), Kilrush . Her mother was Bridget McMahon. Through her mother Honoria descended from another line of Kellys, the Leitrim, Creagh Kellys, who had leases on a lot of land through her mother's uncle. "the Priest Kelly".

Patrick Kelly (abt 1799-1873) of Grove House, Tuam, Galway was a very successful merchant in Tuam. His father was originally from Ballinasloe. As part of his businesses he owned several mills, was a corn merchant, owned and sublet over 500 acres of agricultural land in and around Tuam, ran the postal office for Tuam and built & owned 4 business premises on the Dublin road, which he let. He was for many years a Town Commissioner in Tuam (1843-1860) and was chairman of the Town Commission several times. He was also a Poor Law Guardian for Tuam Union from 1839-1860. Patrick's father Patrick Kelly (about 1770-1830) was a Linen and Woollen merchant on Bishop street and also had mills on Bishop street, both linen and corn mills. Patrick was also active politically in the Repeal movement. Patrick's wife was Bridget/Delia Elwood, from an old and well respected Tuam family. Both families were very well off early 1800s, to give some idea, Patrick and Delia's marriage settlement stipulated that he raise 3000 pounds on his lands for his children, a very large sum at the time and an indication of the money Delia brought with her coming into the marriage.

John Kelly (abt 1797-1865), Ballyerra house, Kilrush was the eldest son of John Kelly (abt 1770-1842) of Cragaknock and Anne Butler (abt 1770-1834) of Doonbeg, well to do farmers. These Kellys had come to Clare after the battle of Aughrim, according to family lore. John Kelly was a successful corn, bacon and butter merchant in Kilrush from the 1830s until mid 1840s. He exported butter, bacon and corn to the UK from Kilrush, throughout the 1830s to mid 1840s, renting space for his cargo on ships and using his own ship, the Lady Grace. He was also a Poor Law Guardian.



Figure 1: Kelly Family Tree

His brother Matt Kelly (1798-1880) was also originally a merchant in Kilrush and then later manager of the National Bank, Kilrush and a land agent for his brother in law, Dr Matt Kenny of Monkstown, Co. Dublin. Matt Kelly was Deputy Lieutenant for Clare. Matt Kelly's son was General Sir Thomas Kelly Kenny of Boer fame. Honoria's uncle Father Timothy Kelly was parish priest of Kilmihill, then Kilrush and is remembered with great respect in the town and commemorated in the local church. Descendants of John's brother Patrick Kelly still live at Prospect Lodge, Cragaknock.
Honoria's older sister, Anna Augusta Kelly (1829-1862), married Lancelot Spencer Mangan (1823-1901), originally from Ennis, in 1847.

The Mangan's were a successful merchant family. They descended from Denis Spencer (abt 1740-1801), blanket merchant of Kilkenny who moved to Clondegad, Ennis . (The Mangan histories say he was a half pay officer but neither of the two contemporary references that I have refer to him by a military title, I suspect this relativewas in a previous generation. The Mangans say they descend from a Miss O'Brien of Dromoland married to a Spencer officer. They got very distant DNA matches to the current O'Brien of Dromoland family). I am not clear when the Mangans moved to Ennis but John had a bakery there in 1824. The Mangan family moved from Ennis to Gort in 1833 where John Mangan bought Gort mills, converted it from a tuck mill to a grain mill and set up a bakery. Patrick Joseph (P.J.) Mangan (1827-1869) ran the business in Gort after his father. The family lived at a large house, Flowervale, Gort which John Mangan built. The Mangans also had a bakery in Loughrea and Lot S. Mangan had mills and a bakery in Galway.

How did the three families meet? Kilrush was then a long way from Tuam. Possibly through shared business interests, Patrick Kelly was in the corn business but was also a director (for Tuam), in the 1830s, at national level, in the short lived Agricultural and Commercial Bank. John Kelly, Kilrush was also a shareholder in the bank and the local landlord in Kilrush, Colonel Vandaleur attended many meetings with Patrick Kelly. They met possibly through St Jarlath's college in Tuam. John Kelly (1825-1874), solicitor, son of John Kelly (1797-1865), Kilrush went to school at Tuam College as did Patrick Kelly's son in law & brother in law, P.J. Conway (1816-1896), solicitor, Tuam, Claremorris and Dublin. I do not know where Lot S. Mangan or Charles Kelly were educated.
Two matches were made and the Kilrush, Kelly girls moved to Galway and Tuam.


Lot S.Mangan and Anna Augusta Mary Kelly

Lot and Anna lived in Villa Maria, Salthill, Galway, where they had a large family. Lot ran a bakery and had big contracts for bread and flour for the military. He also ran two mills in Galway city and also was active on the Port commissioners and harbour board. He was also involved in politics and the Repeal movement and spoke often at meetings.

Anna had a large family by Lot (9 we know of) but fortune did not favour them. In the mid 1850s Lot lost a lot of money on the Steam Packet scheme for Galway, which he and others (including the Rev Peter Daly) were promoting, despite numerous reports saying the rough seas around Galway were unsuitable for a large port. Lot moved to Dublin, but returned to Galway to take up a job in the Gas Board, secured for him by Rev Peter Daly. Anna died when her youngest son Peter Daly Mangan (Clarence) (1859-1938) was eighteen months old. Lot moved to London for some years, where he gave grinds in classics. His brother P.J. passed away unexpectedly in 1862 and his father John in 1869. He then inherited the mills at Gort and the house Flowervale to where he moved. He ran the mills there for a few years. He remarried and had another large family before going bust again and moving to Dublin where he taught Classics.



Figure 2: Anna Augusta Mary Kelly

We have tracked descendants of Lot and Anna Kelly:

• Peter Daly "Clarence" Mangan (travelling actor) who had two families the first with Emily Shoetree, a daughter, Evelina Mangan Mangan(1882-) , the second with his Welsh wife Lily Johnson of the "Prince of Wales" travelling theatre company family. His daughter Mona Augusta Kelly Mangan (1894-1990) was a musical actress and later detective novelist and writer, writing with her husband, Edwin Radford, as M A Radford. Her detective story books are being reissued.

• I know of descendants of Spencer Mangan (1852-1944), who lived in Liverpool, through his daughter, Mary Augusta Hope Davy Mangan (1899-1971) ,who married Neil Evans It would be great to hear from any of these family members.


Figure 3: Lot S. Mangan and Anna Augusta Mary Kelly Family Tree


Charles and Honoria Kelly

Charles moved from his father's house in Tuam to Ardskeamore in Cummer, where he rented a large farm from James Browne. He also rented land at Ballintober. For some years he was a cattle farmer and is recording selling stock at various fairs at Ballinasloe and at the Great October fair in Tuam. He also acted as a relieving officer for Abbey dispensary district for Tuam Union. Times were tough for farmers and landlords and James Browne sold up all his land in the landed Estates courts in 1884 and 1885. Charles and Honoria lost their home and farm and we don't know what became of them. They possibly went to join some of their children who had already emigrated to the US.

Charles and Honoria had a large family of 11 or 12 children, most of whom emigrated and the siblings lost touch. The baptismal records for Cummer and Abbey parishes are incomplete and I only have names for some of the 7-8 daughters. Some I know of only through newspaper birth announcements which do not name them.

We only know what became of four of Charles' 12 children:


Figure 4: Charles and Honoria Kelly Family Tree
Patrick Joseph Kelly emigrated to England where in 1898 he ran a pub at Maple Cross. Ricksmansworth, Hertfordshire. He married an English woman Laura Raynor. He has descendants in the UK.


(Mary) Frances J Kelly/Kelley emigrated to Boston where she married Peter Griffin. She had a large family. She is pictured below with two of her daughters.


Figure 5: Frances J. Kelly/Kelley and daughters
I think her sister Josephine Kelly also emigrated there and married Francis Griffin, brother to Peter, but I am not entirely sure.
Charles and Terence Kelly both emigrated to New York where they worked for the Trolley company. They seem to have both left New York about 1899. I cannot track them after that.

Thomas Kelly went into the army and then emigrated to Western Australia where he married Eliza Reynolds. He has descendants in Perth and surrounding area. The picture is of his son Charles Kelly's (1896-1969) marriage to Frances Millicent James.


Figure 6: Thomas Kelly


Agnes Kelly emigrated to New York where she married Richard Berge. I don't know much about her, I don't think that she had any children.
Annie (Nanny) Kelly emigrated to New York with her child Nora and married twice there, firstly Henry F Fausett, then later Anthony Rowan. She had several children.

I don't know what became of most of them, one daughter Agnes Josephine Faussett (1902-1944) married Harold Francis Griffin.


Figure 7: Annie Kelly

Her son Henry Augustine Fausette (1908-1975) (stage names Harry Ryan and Harry Gross) was well known as a straight man (for comics) in burlesque shows. He had at least two children by two relationships, Helen Esther Schneider (1909-1994) and Anna Mae Kinic (1907-1999) aka Gross/Ryan.
Descendants of both families are on ancestry.


Figure 8: Henry Augustine Fausette (1908-1975)

John Kelly married Margaret Raftery of Killasolan and took over the farm which he worked. He has descendants in Ireland and the US. We do not know what happened to the other siblings although we believe that some of the girls entered the nuns. The Kelly family would love to hear of descendants.
Family Trees

John Kelly, Kilrush and Bridget McMahon

John had a large family. His son Patrick John worked with him in the corn and bacon business but emigrated to Australia in the 1852 with his cousin David Kelly, son of Matt, who later returned to Kilrush. We do not know what became of Patrick John. His daughter Lidya (Bedelia Mary abt 1842- married John D Murphy of Liverpool in 1862, in Kilrush and cannot be traced.

James Kelly had a stationer's and newsagents in Kilrush. Descendants of his son Timothy live in America.



Figure 9: John Kelly, Kilrush and Bridget MacMahon Family Tree


Kelly Cragaknock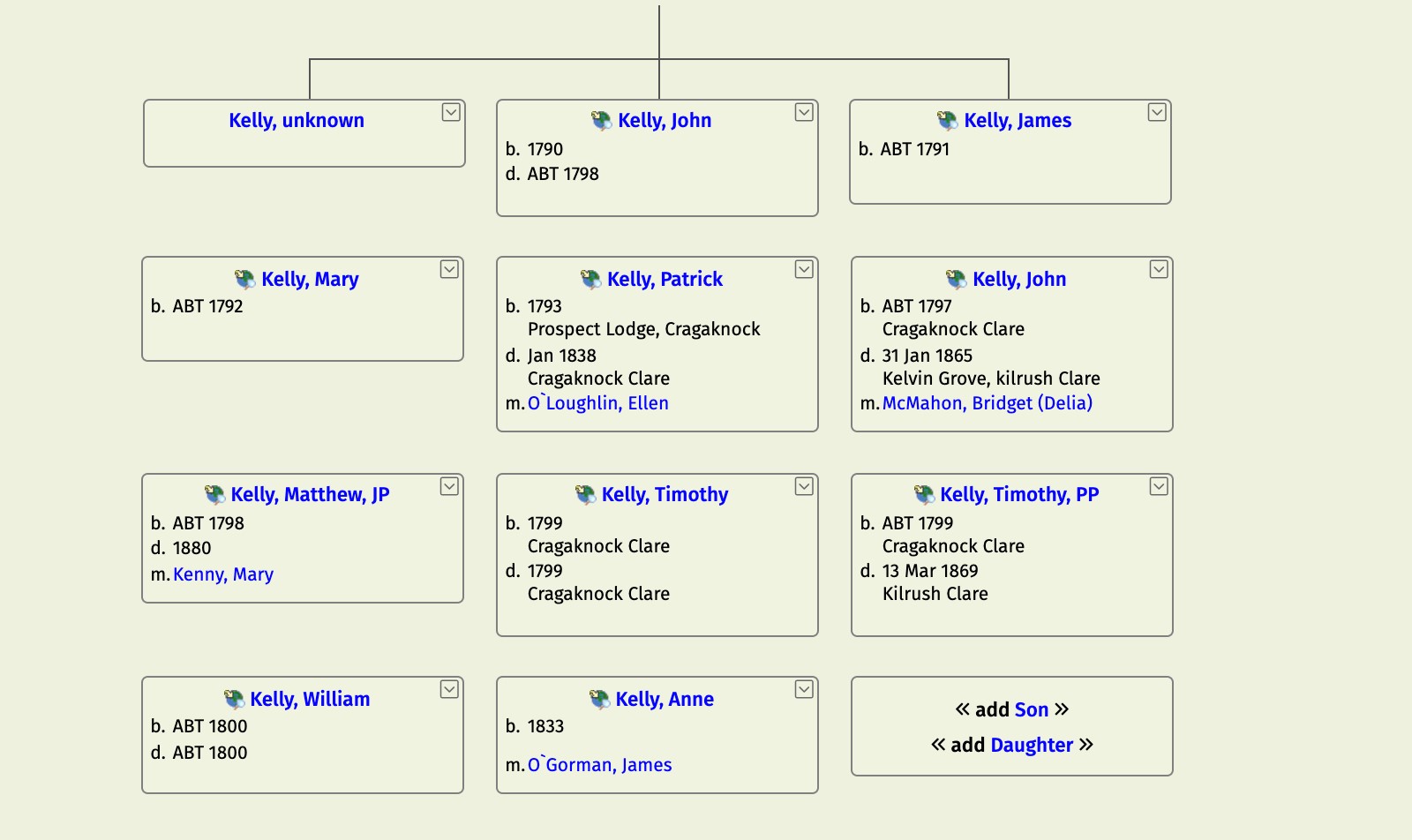 Figure 10: Descendents of John Kelly and Anne Butler


Patrick Kelly and Bridget/Delia Elwood, Tuam

Patrick Kelly lived in Tuam, firstly on the Dublin road above his business premises but in 1845 moved to Grove House, on the outskirts of the town, which Patrick rebuilt. It had 8 bedrooms, two water closets, 2 drawing rooms and 2 parlours and a water pump and was on 14 acres of gardens.

Patrick and Delia had a large family,

• J.J emigrated to Australia, where he married Julia Gaggin and where his descendants live.

• Frances Anne (Annie) married Andrew J O'Connor, land owner of Hazlewood, Tuam and lived in Blackrock, Dublin and Galway

• Elizabeth (Eliza) married P.J. Conway, solicitor as his second wife. She has numerous descendants, some still in the Tuam area through her daughter Madeline Conway Quinn and descendants in Argentina through her son Patrick Stephen Henry Conway.

• Delia married Thomas Cullinan, landowner and farmer and lived in Turloughmore, then Oranmore and has descendants living in Ireland and France and the US through her daughter Minnie Cullinan Carter and her son Stanley Cullinan.

• Honoria entered the Mercy nuns as Sr Mary Ignatius.

• Charles we have previously discussed.


Figure 11: Patrick and Bridget Kelly Family Tree


Figure 12: Patrick Kelly (1770- abt 1830) Family Tree


Figure 13: John Elwood and Mary McGrath and Unknown Tuam Family Tree



Figure 14: Arthur Elwood (1731-1802) Family Tree


Figure 15: John Mangan and Ellen Spencer Family Tree