Mary Ellen and Henry Hunter Fairbairn's children
e. Henry David Fairbairn
e. Henry David (David) Fairbairn was born in 1915 at Flemington, Victoria (Great War Index Reg No 21510).
David died of Broncho pneummonia and marasmus (a form of severe protein-energy malnutrition) on 31 Jul 1916, aged 1 year, at 4 Norwood St, Flemington, Victoria, he had been ill for 3 months. He was buried on 1 Aug 1916 at Coburg, Victoria, in the family grave with his sister Annie (Vic Death Certificate No 10139 and Fawkner Crematorium & Memorial Park, website).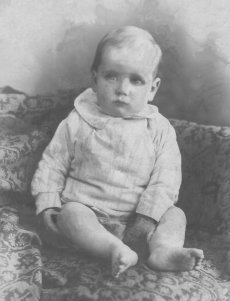 Henry David (David) Fairbairn
Photograph provided by Beris Brett