Mary Ellen and Henry Hunter Fairbairn's children
a. Lachlan Fairbairn

Lachlan Fairbairn
Photograph taken in Singapore 1941
Photograph provided by John Rackstraw
Lachlan (Lockie) Fairbairn
13 May 1907 - 2 May 1983
Married c1952
Mary Campbell Lidgett
1913 - 29 Jun 1994
a. Lachlan (Lockie) Fairbairn was born on 13 May 1907 at Kensington Hill, Victoria (Edwardian Index Reg No 11654 and WW2 Nominal Roll).
After the death of his father in 1924, Lockie was offered a job at the Newmarket Saleyards where his father had worked for many years (Notes taken by John Rackstraw, Lockie's nephew, from conversation with Tom, Lockie's brother, 15 August 2005).
Lockie was listed on the 1931 Electoral Roll living at 18 Pridham St, Kensington, Victoria, with his mother and siblings; his occupation was recorded as Drover. In 1936 he was listed at 51 Edinburgh St, Newmarket, occupation - Drover (Ancestry.com.uk, Vic Electoral Rolls, website).
Lockie enlisted in the Australian Army in WW2:
Service Number
VX60599
Date of Birth
13 May1907
Place of Birth
Kensington, Vic
Date of Enlistment
30 Jul 1941
Locality on Enlistment
Moonee Ponds, Vic
Place of Enlistment
Royal Park, Vic
Next of Kin
Fairbairn, Mary
Date of Discharge
22 Feb 1946
Rank
Private
Posting at Discharge
2/29 Australian Infantry Battalion
Prisoner of War
Yes
(WW2 Nominal Roll, Commonwealth of Australia, website).
Lockie was promoted to Acting Sergeant on 21 Aug 1941 and embarked from Sydney on 17 Sep 1941. He disembarked on 5 Oct 1941 at Singapore and reverted to Private, on the same day he was appointed Acting Corporal. On 5 Dec 1941 he marched out to join the 2/29th and reverted to Private (Copy of undated handwritten note signed by Lachlan Fairbairn, provided by Lachlan's nephew, Ray Fairbairn, 26 Jun 2005 and WW2 Service file NAA Series 883, Barcode 6119812).
The 2/29th Infantry Battalion was formed in Victoria in Oct 1940, part of the 8th Division's 27th Brigade, the last AIF infantry battalion raised for service during the Second World War. At the end of Jul 1941, it sailed with the rest of the brigade to Singapore, arriving on 15 Aug. In the second week of Sep the 2/29th travelled to Segament in Malaya, where it continued training.
Japanese forces landed at Kota Bahru in Northern Malaya, just before midnight on 7 Dec. By 15 Jan 1942 they had reached Muar River in northern Johore. The area was defended by an inexperienced and poorly trained Indian brigade and the 2/29th and the 2/19th Battalions were sent to Muar as reinforcements. The 2/29th reached Bakri on 17 Jan and assumed defensive positions.
The Japanese attacked the next day. The 2/19th attacked along Muar Road on 19 Jan and held a vital crossroad long enough for the 2/29th and the Indian units to withdraw. Constantly harried from the rear and the air, the force fought its way through a succession of Japanese roadblocks but it was halted by strong positions around the bridge across the Simpang Kiri River at Parit Sulong.
With its ammunition exhausted, casualties mounting, and no chance of relief, the combined Australian-Indian force struck out through the jungle for Yong Peng on the morning of 23 Jan. They were forced to leave their wounded behind. Among the survivors who reached the British lines at Yong Peng only 130 men from the 2/29th made it.
The remaining men were withdrawn to Johore Bahru and then Singapore Island. The 2/29th was reinforced with 500 men, many of whom had only recently arrived from Australia and subsequently fought as part of the defence of Singapore. However they could not stop the Japanese and on 15 Feb 1942 the British commander on Singapore surrendered.
The 2/29th spent the next three and a half years as POWs. Concentrated in Changi goal, the battalion was used to supply labour for work parties, men were sent to Burma, Thailand, Java, Sumatra, Borneo and Japan (Extracted from Unit History of 2/29th Battalion, Australian War Memorial website).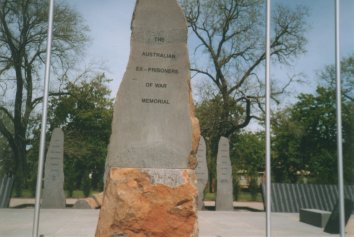 The main Prisoner of War Memorial at Ballarat, Victoria
Photograph provided by John Rackstraw
Lockie was selected for 'F' Force, which was a work party sent to Thailand in April 1942, but he developed ulcerated eyes and was sent back to Blakang Mati (an island off Singapore) and worked digging bomb pits. Lockie contracted Malaria and suffered reoccurring attacks during imprisonment (Digger History, website and undated handwritten note signed by Lachlan Fairbairn, provided by Lachlan's nephew, Ray Fairbairn, 26 Jun 2005).
After the surrender of the Japanese, the POWs were released and while waiting for passage home, messages were recorded and broadcast to Australia. Lockie's nephew, John Rackstraw, remembers hearing Lockie sending a message to his mother, Mary Ellen, he said that he and his brother in law, Jim Rackstraw, were both well and asked her not to feed them any rice when they got home (Personal memories of John Rackstraw, Jun 2005)
There was a real comradeship between Newmarket workers. When Lockie Fairbairn came home in 1945 in a convoy of army trucks full of returning prisoners of war, Newmarket turned on a welcome home spectacle. For only the second time in its history a stop was called and all the Newmarket stock people lined the roadway to welcome back Lockie and all the other brave lads (Book; Vincent, Keith, On the Fall of the Hammer, a history of the Newmarket Saleyards, State Library Vic, 2nd Edition 1992, page 112)..
On his return home Lockie was admitted to the Repatriation Hospital, Heidelberg, Victoria, where he was diagnosed with hookworm, hemorrhoids, scarred left eye, a skin disease as well as chronic malaria (Copy of undated handwritten note signed by Lachlan Fairbairn, provided by Lachlan's nephew, Ray Fairbairn, 26 June 05).
Lockie was discharged on 22 Feb 1946 at Royal Park, Victoria.
War Service: One thousand six hundred and sixty nine days
In Australia for 123 days
Outside Australia for 1467 days
Description on discharge:
Age
38 years
Height
5' 9"
Eyes
Grey
Complexion
Dark
Hair
Dark
Marks or Scars
Scars on back of neck
Address at date of enlistment
77 Athol St Moonee Ponds
Occupation
Stockman
Religion
Presbyterian
Educational Qualifications
Merit Certificate
(Copy of Certificate of Discharge No 494254, provided by Lachlan's niece Thelma Ellis, 19 Jun 2005 and WW2 Service file NAA Series B883, Barcode 6119812).

Lockie returned to work at the Newmarket Saleyards for his uncle, Lachlan Fairbairn of L.A. Fairbairn & Co. Stock & Station Agents; he rose to the position of Auctioneer (Information provided by Lachlan's sisters, Margaret Rackstraw and Thelma McKinna).

From left – unknown man,
Lachlan (Lockie) Fairbairn, Gordon Fairbairn and Donald Fairbairn
at Flemington Saleyards, Victoria.
These three men were all descendants of Thomas Fairbairn
and were employed by his son Lachlan Fairbairn,
of L.A. Fairbairn & Co. Stock & Station Agents
Photograph provided by John Rackstraw
Lockie married Mary Campbell Lidgett, daughter of Henry Lidgett and Christina Margaret Gardiner Grant, circa 1952 at Bacchus Marsh, Victoria.
Lockie died of Ischemic heart disease and chronic obstructive airway disease on 2 May 1983, aged 75, at Melbourne, Victoria; the informant was his wife May Lidgett Fairbairn. Lachlan's occupation was recorded as Auctioneer on his death certificate and his usual address was 10 William St Bacchus Marsh. His body was cremated on 4 May 1983 at North Altona, Victoria, (Death Certificate No 9983/83).
Lockie and May did not have any children.
A memorial to Australian servicemen and women who were incarcerated in POW camps was opened on 7 Feb 2004 at Ballarat, Victoria. Lockie's name is inscribed on the 130m long black granite wall together with 34,736 others taken Prisoners of War between the Boer War and the Korean War.

Detail of the panel showing the name of Lachlan Fairbairn
Photograph provided by John Rackstraw
Mary Campbell Lidgett
Mary Campbell Lidgett was also known as May. Her married name was Fairbairn. She was born in 1913 at Myrniong, Victoria (Edwardian Index Reg No 6138). May died on 29 Jun 1994 in Victoria. Her body was cremated on 4 Jul 994 at North Altona, Victoria (Altona Memorial Park, website).