Mary Ellen and Henry Hunter Fairbairn's children
b. Margaret Lillian Fairbairn

Margaret Lillian Fairbairn
1 Dec 1908 - 8 Nov 1983
Married 18 Jun 1932
James Lincoln Rackstraw
27 Jan 1904 - 13 Feb 1985
b. Margaret Lillian/Lilian (Marge) Fairbairn. Her married name was Rackstraw. She was born on 1 Dec 1908 at Craig Park, Hurtle St, Ascot Vale, Victoria (Extract of Entry for Vic Birth Registration No 160194).

Young Margaret Fairbairn (date unknown)
Photograph provided by Beris Brett
On the 1931 Electoral Roll, Marge was listed at 18 Pridham St Kensington with her mother, Occupation - Typist (Ancestry.com.uk, Vic Electoral Rolls, website).
Marge married James (Jim) Lincoln Rackstraw, son of James Lincoln Rackstraw and Elizabeth Gibson, on 18 Jun 1932 at the Presbyterian Manse, Flemington, Victoria. Their marriage was conducted by Presbyterian Minister, the Rev Robert Nairn, the witnesses were Lachlan Fairbairn, the bride's brother and Robert McDonald, a friend of the groom.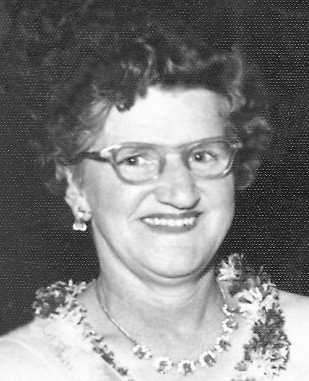 Margaret Lillian Fairbairn
Photograph provided by John Rackstraw
The following details were recorded on their Marriage Certificate:
Margaret, Spinster, age 23, occupation - Typist, present and usual address - 6 Bellair St Kensington.
James, Bachelor, age 28, occupation - Mill worker, present and usual address - 145 Mt Alexander Rd Flemington
(Vic Marriage Certificate No 4916).

James Lincoln Rackstraw
Photograph provided by John Rackstraw
On the 1936 Electoral Roll, Marge was listed with her husband at 16 Victoria St, Newmarket. Occupations - Marge - Home duties, James - Mill hand. In May 1939 the family was living at 8 Brighton St Flemington where their second son was born (Ancestry.com.uk, Vic Electoral Rolls, website and Birth Certificate for John Thomas Rackstraw).
In Feb 1942 Marge and her two sons moved to 77 Athol St, Moonee Ponds, Victoria, to live with her mother Mary Ellen, as Marge's husband had enlisted in WW2 (WW2 Service file for James Lincoln Rackstraw, Series B883, Barcode 6123255).
During WW2 Marge was employed at the Munitions Factory at Maribyrnong. Women were not usually employed in such a dangerous working environment but because so many men were away in the armed forces the number of women employed in the factory rose from 46 to 3,197. Marge told of one occasion when a container of nitroglycerine rolled off a bench, hit the floor, but did not explode (Munitions Factories in the Western Suburbs by Erin Gorman, history/online website and personal memories of Marge's son, John Rackstraw).
Marge and Jim separated in 1948 and were later divorced (Petition for Dissolution of Marriage by James Lincoln Rackstraw dated 21 May 1962).
After the war, Marge worked in Margot's Cafe in King St Melbourne, and on occasions acted as Manager. For three months in 1950 Marge, her son John and Marge's friend, Eric George went to stay at the Royal Mail Hotel in Wycheproof where both Marge and Eric worked at the hotel. In the early 1950's Marge was employed in the office at J.R. Rayner & Sons Quarries, in Ballarat Rd Footscray.
Later Marge was employed as a bookkeeper at Kartex Pty Ltd, a ladies clothing manufacturer between Elizabeth & Swanston Sts, in Flinders Lane Melbourne. Her employer, Mr Karafka, was very generous, Marge was always allowed to choose a suit from the range in the showroom as a Christmas gift, and when the 1956 Olympics were held in Melbourne, Marge was given two tickets for herself and her son John to attend the opening ceremony. Her employer also provided a loan of 1,000 pounds to enable Marge to purchase the home she had been renting at 77 Athol St Moonee Ponds. The loan was paid back a small amount each week from Marge's pay.

Margaret Rackstraw (nee Fairbairn) on right, at a wedding in 1968
with her cousin Lucy Moss (nee Hardy) on left,
the daughter of Isabella Hardy (nee Fairbairn)
Photograph provided by Thelma Ellis
Marge also followed her mother's example in her generous help to her relatives who needed a place to live in times of need; she was also a generous worker for charity and often opened her home to the Essendon 20 Club for fund raising activities (Personal memories of Marge's son, John Rackstraw).
Margaret died of a Brain stem infarct and emboli on 8 Nov 1983, aged 75, at Royal Melbourne Hospital, Parkville, Victoria, she had been ill for two months. The informant was her son John Rackstraw (Vic Death Certificate No 26220). Her body was cremated on 11 Nov 1983 and her ashes are located at H.C. Curwen-Walker Gardens Wall 3 Niche 67, Fawkner, Victoria, (Fawkner Crematorium & Memorial Park, website).
Marge and James had two sons.
James (Jim) Lincoln Rackstraw
James (Jim) Lincoln Rackstraw. James was born on 27 Jan 1904 at Sunderland, Durham, England (WW2 Nominal Roll, Commonwealth of Australia, website).
Jim's father enlisted in the RAN in England at the beginning of WW1 and sailed to Australia with ships purchased by the Australian Government. Jim's mother died soon after but Jim and his siblings were not permitted to travel to join their father until after the war was over and the oldest child Margaret was deemed sufficiently mature to supervise the other children on the voyage. The children finally arrived on the Osterley in Nov 1919 (PRO, Index to Unassisted Passenger Lists to Victoria 1852-1823, website).
Jim enlisted in the Australian Army in WW2:
Service Number
VX65304
Date of Birth
27 Jan 1904
Place of Birth
Sunderland, England
Date of Enlistment
27 Oct 1941
Locality on Enlistment
Flemington
Locality on Enlistment
Flemington
Place of Enlistment
Royal Park
Next of Kin
Rackstraw, Margaret
Date of Discharge
3 Dec 1945
Rank
Private
Posting at Discharge
2/10 AUS ORD FD PARK.
Prisoner of War
Yes
(WW2 Nominal Roll, Commonwealth of Australia, website)
Additional information extracted from Jim's service file:
Jim embarked for Singapore on 10 Jan 1942 and arrived on Jan 26, the same day that orders were given for a general retreat from Malaya to Johore Bharu and the day before Jim's 38th birthday. Three weeks later Jim was taken prisoner after the surrender to the Japanese. He spent his imprisonment in Changi POW Camp and is known to have had contact with Lachlan Fairbairn, his brother in law, also a POW. Jim returned to Australia on 9 Oct 1945 (WW2 Service File, NAA Series Number B883, Barcode 6123255).
After Jim and Marge were divorced, Jim married Ethel Mary Davies (nee Montgomery) a widow, in 1963.
Jim died of Basal pneumonia, left cerebral infarction and hypernatremia on 13 Feb 1985, aged 81, at the Royal Melbourne Hospital, Parkville, Victoria (Vic Death Certificate No 4315). His body was cremated on 15 Feb 1985 and his ashes are located at Niche, 62, Wall 12, H.C. Curwen-Walker Gardens, Fawkner Memorial Park (Fawkner Crematorium & Memorial Park, website).