Clare Placenames Policy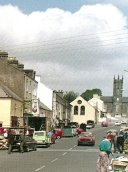 Placenames Policy Information
County Development Plan Policy 1999 for Placenames
Prior to commencement of development proposals for an estate name/house numbering scheme and associated signage shall be submitted to the Planning Authority for agreement.
Place-name Committee's Policies
It is the policy of the Place-Names committee that place-names should:
Be easily pronounced
Be in Gaelic, if appropriate
Reflect the local topography, history, environment, culture, ecology or mythology of the immediate area.
The procedure is as follows:
A developer may submit names for a proposed development
The development control, planning section will forward any requests or place-name proposals to the committee
The committee may decide to accept or reject the name proposed
In the case where the name has been rejected or where place-names are to be proposed, two to four alternatives or names will be suggested
These proposed names will be forwarded to the developer to make the choice. The developer may choose to re-negotiate or have further discussions on the matter
The developer will then submit the final place-name choice to the development control, planning section
Planning will accept or reject the proposed place-name.