William Smith O'Brien was a firm believer in national rehabilitation for Ireland through economic development, and through the Nation he advocated model farms, agricultural schools, colonisation of waste lands and a national system of railways for Ireland. The Repeal Party, however, was becoming increasingly fragmented between the older, more conservative members who preached Catholic politics, and the younger men who desired a pluralist, non-sectarian state. Both factions disagreed over the use of violence as a means of redressing grievances, and clashes were particularly vehement over the government's proposal to establish provincial University Colleges which would be open to all religious denominations. The Young Irelanders, as the more radical faction was known, withdrew from the Repeal Party and formed the short-lived Irish Confederation in January 1847.[2]
O'Brien was a reluctant figurehead, and appeared more anxious to live the life of a country gentleman at his estate in Cahermoyle, County Limerick, which he had inherited through his mother. It was a difficult time for new political movements. Famine and fever racked the land, but political fervour was ignited by the news of the successful French Revolution of February 1848.
O'Brien advocated the setting up of an armed National Guard, and with others of the Irish Confederation, he visited France to congratulate the revolutionary movement there. He believed that the mere existence of a National Guard and a network of Confederate Clubs would force the British government to concede Repeal, and in early July 1848, he set out on a tour of the south and east to organise clubs.
The government moved swiftly: Habeas Corpus was suspended, and a warrant was issued for O'Brien's arrest. His natural indecisiveness was overthrown, and he decided with the encouragement of Thomas Francis Meagher and John Dillon to defy the government and appeal to the people. Such a course of action was influenced by the reports in the Nation of large, well-organised revolutionary clubs in Kilkenny and Tipperary.
O'Brien made his way through Kilkenny, Callan, Carrick-on-Suir, Cashel, and Killenaule before finally locating his headquarters in the little mining village of The Commons in southeast Tipperary. Here, on 28 July 1848, the cream of Ireland's revolutionary literati gathered in the upstairs room of a village pub – O'Brien, Thomas Francis Meagher, Terence Bellew McManus, James Stephens, Michael Doheny, John O'Mahony, John Dillon and Patrick O'Donohue. They discussed revolution, and agreed to disperse and await the harvest. O'Brien remained at the Commons with McManus, Stephens and O'Donohue, and on the morning of Saturday, 29 July, a group of armed policemen marched from Callan to arrest him.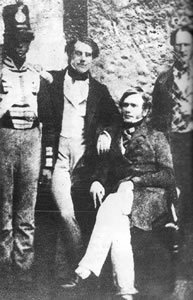 William Smith O'Brien, seated, and Thomas Francis Meagher
flanked by a prison guard and jailor at Kilmainham jail, Dublin, 1848,
before being deported to Tasmania
The subsequent confrontation between police and O'Brien's group of badly armed farmers and miners at the Widow McCormack's house was, in effect, the 1848 rebellion.[3] O'Brien fled, but was arrested a week later at Thurles railway station as he awaited a train to Limerick. Tried with McManus, Meagher and O'Donohue, he was sentenced to death for treasonable activities. The sentence was commuted, and on 9 July 1849, they left Kingstown harbour (Dun Laoghaire) for the penal colony at Van Diemen's Land. His tribulations there have been the subject of a number of volumes,[4] but the proposed publication of his 'Tasmanian Journal', which is a relatively full account of his exile, will give valuable insights into the political philosophy of a remarkable Clareman. [The journal was published in 1995 as To Solitude Consigned: The Tasmanian Journal of William Smith O'Brien, RP Davis (ed.), Crossing Press, Sydney. ISBN 064622784X.]
O'Brien's interests had much to do with the moral basis of authority and the more equitable forms of government. After his release, his two volumes, Principles of Government or Mediations in Exile was published in Dublin in 1856. He led a rather unsettled life, and did not again become actively involved in Irish politics. O'Brien died at Bangor, North Wales in 1864.
O'Brien retained a deep affection for his native county, and was particularly conscious of its rich Gaelic heritage. He was held in high esteem by the Gaelic poets of his time, who regarded him as the rightful successor of Brian Boru. Both Seamus MacCuirtin and Brian O Luanaigh composed poems in his honour, and O'Brien had O Luanaigh collect 'vernacular sayings' and 'colloquial phrases' of the Clare peasantry. It appears that O'Brien was proficient in the reading and writing of Irish.
The Tasmanian Journal
To Erin's Isle across the Main
Fancy has borne me once again
And now the well known scenes I trace
Where dwells the future of our race
Whilst Thomond's hills before us rise
And dear Dromoland greets my eyes[5]
The above lines which begin a long and rather tedious poem composed by O'Brien for his niece Juliana, and copied into his journal are illustrative of the pangs of exile suffered by this sensitive and scholarly man, cast adrift on an inhospitable shore. The Journal as a whole is a remarkable record of O'Brien's trials and tribulations. More than this however, it provides a unique picture of the youthful Tasmania, in the portrayal of which O'Brien proved himself to be acute both as a statistical enquirer and general reviewer. It commences on Wednesday 28 October 1849 and concludes on 20 March 1853.


Smith O'Brien's cottage at the penal settlement Port Arthur, Tasmania
Initially confined to Maria Island, O'Brien was transferred to Port Arthur in April 1850. On his acceptance of parole he lived in New Norfolk from November 1851. From New Norfolk he moved to St. Paul's where he remained for almost a year, and his final period of exile was spent back in New Norfolk. Geographically, his observations are confined to the southeast of the island as far north as the Esk River, and it is well to remember that his freedom of movement was restricted within these areas also. The Tasmanian landscape was a source of some pleasure to O'Brien, and he was pleasantly surprised on his arrival to witness the splendid beauty of the Derwent in the neighbourhood of Hobart, 'scarcely surpassed – even by the vicinity of Dublin'. He noted the similarities between the southern shores of Van Diemen's Land and the Giant's Causeway in north east Ireland, and the sight of Mount Arthur brought back memories of the Galtee and Wicklow mountains. The grief of separation was often sparked off by the perceived similarity between Tasmanian and Irish scenes, or more particularly in many cases, between Tasmanian and Clare scenes. In Ireland he had roamed the countryside in the company of his wife and children; in Tasmania he was a solitary, lonely observer.
O'Brien's Ireland was a humanised landscape full of the spent shells of history. Tasmania, for the Europeans was a new, young country, although its aboriginal cultures predated Europe's oldest civilizations. Ireland was a crowded countryside with a population of eight million. Clare alone held some 286,000 souls. Tasmania, in contrast was almost empty (70,000) with a corresponding absence of the cultivation so characteristic of Ireland. O'Brien belonged to a landlord class, who had controlled and shaped landscapes such as his ancestral Dromoland and before that Bunratty for many generations. Tasmania with its impenetrable woodlands was a little unrefined for his aristocratic taste.
O'Brien's views on Tasmania's Government and society are of compelling interest because of their timing and his vast experience as a parliamentarian and popular politician. His opinions are obviously tempered by the fact that he was not a voluntary exile and that he believed himself harshly victimised by Governor Denison. At times he haughtily distances himself from the provincial politics of the colony, declaring that he is 'mere spectator of what passes in this country', but inevitably and luckily his natural instincts and interests prevail.
He was well placed to observe the workings of the penal system established to solve at the periphery the problems of the core. O'Brien firmly believed that the wrongdoers could be rehabilitated beneficially through transportation, but he was firmly against the system whereby convicts were superimposed on a free settled population. Such a system, he was convinced, would produce an indigenous criminality which would be all-pervasive and impossible to ameliorate. Tasmania's government replicated on a smaller scale the imperial model. It was inextricably linked to the ladder system of patronage which enmeshed the island in a giant web stretching from government headquarters at Hobart to the remotest settlement and the lowliest constable. The island was a prison fortress whose population consisted primarily of jailors.
O'Brien's gentry status and natural reserve distanced him from the free settler and merchant population of the island. Rarely does he befriend anyone apart from the Catholic clergyman, Rev. William Bond, with whom he claimed to be on terms of 'intimate acquaintanceship'. A frequent visitor to the house of Michael Fenton, a voluntary Irish exile, who was later to become prominent in Tasmanian politics, he once observed after a dinner there in the company of local notables: 'there were perhaps few persons there with whom I should desire to form an intimate acquaintance'. He considered that Meagher's marriage to Catherine Bennett 'cannot be considered advantageous to him', and generally found that the settlers differed from him in 'tastes and opinions'. He recommended Australia as a suitable destination for the working classes, and rejoiced that there was 'at least one part of the world in which the labouring classes have a chance of sharing the bounty which providence showers upon man'. O'Brien, however, had serious reservations concerning the emigration of young girls to Van Diemen's Land, and was so affected by stories of moral depravity that he considered 'it better to each(?) potatoes at home than to live in luxury in Van Diemen's Land'.
On a deeply personal level, the journal records the impact of exile on an individual who was centre stage in Irish, and by extension, British politics for over twenty five years. Reading and writing were his great consolations and his capacity to read French, Latin and Greek, and to review a very catholic range of literature is ample testimony of the effectiveness of his early education. His mental state varied in the context of location and conditions. He experienced difficult times in both Maria Island and Port Arthur, but he appears as disconsolate and depressed in New Norfolk, observing that 'Often have I regretted that I was not shot at Ballingarry or executed at Clonmel: Death must be terrible indeed if it be not preferable to such a life as this which I have led since I left the shores of Ireland.'
From the Irish perspective, the most significant element of the journal are his retrospective accounts of his own role in the turbulent year of revolution: the analysis of contemporary English politicians is also of great interest, as O'Brien was a parliamentarian of long standing and intimately acquainted with the scene at Westminster. Throughout his exile, Ireland and the Irish people were constantly on his mind. The outbreak of sectarian violence at Dolly's Brae on 12 July 1851 greatly distressed him, and his admonition to both factions betrays his exasperation at the divisiveness which bedevilled Irish politics: 'if man', he wrote, 'had nothing else to quarrel about, they would quarrel as to the best mode of breaking an eggshell'. Along with Augustine Thierry, he marvelled at the 'indomitable pertinacity' of his own people to preserve through centuries the 'remembrance of their lost liberty'. O'Brien indicted England for her treatment of Ireland and scorned England's role as 'friends of liberty'. The tone of the Journal becomes more vitriolic and denunciatory:
'Force, fraud, intrigue, corruption are the agencies by which England has ever sought to uphold her rule in Ireland, coercion acts, standing armies of soldiers, standing armies of police, packed juries, hired spies, hired informers, hired journalists, hired layers(?), moral assassins of every class – such are the agents employed in the government of Ireland.'
O'Brien is a reluctant commentator on his own role in 1848, and writes only to correct what he considers as incorrect attributions to him by other participants. In this context he takes issue with the Lamartine claim that the delegation went to France in 1848 to request military assistance. O'Brien, who was on the delegation, reiterates that they went merely to congratulate the French revolutionaries. However, he does describe with enthusiasm the role of National Workshops under the direction of Louis Blanc, and perhaps here was the model for the Confederate Clubs established throughout Ireland in the Spring and Summer of 1848. The visit to France and the French Revolution of 1848 ignited the flames of dissatisfaction in Ireland and were, O'Brien wryly notes, 'attended with consequences most disastrous to myself and to my country'.
England's failure to counteract the Great Hunger drove reasonable men to despair and revolution. O'Brien rightly points to the damning indictment of English policies in the published returns of the 1851 census, which showed that Ireland had lost two million either through death or emigration in that awful decade. The economic pragmatism of the Whig Party was preferred to any pecuniary sacrifice for Ireland's starving masses. Revolution in these circumstances was 'a noble venture' and O'Brien vindicates his companions by declaring that 'never were a body of men animated more by purer or more disinterested patriotism'. Unconsciously presaging his future role in Irish politics, O'Brien declares his reluctance to offer himself again as a sacrificial victim to people who were, 'utterly incapable of making a united and successful effort to win that national independence, the value of which they have so ostentatiously proclaimed during so many years.'
William Smith O'Brien's Tasmanian journal is a most important document. It will long remain a primary source for the history of two islands, geographically separated, but woven together in the privately recorded observations, thoughts and opinions of an exiled Clareman.
External Link:
Young Irelanders: Exiles in Paradise