John Kenny (1792 - 1879)[1], who later became the Rev Dean Kenny, was Parish Priest of Kilrush and Ennis and was an influential figure in Catholic education in Clare. Much is written elsewhere about the Dean, including many references to him in Ignatius Murphy's books on the Diocese of Killaloe.[2] He was born in Limerick at Coniger, Mungret and educated at Leamy's School[3] and then Maynooth where he was ordained in 1814. He served from 1814-1815 as a priest in Kilmihil where there are tales of him walking barefoot to hear confession. He was made parish priest of Ogonnelloe in 1815, then Tulla (1818-1827), Kilrush and Killimer (1827-1848) and later of Ennis.
While in Tulla in 1822 he enters into an administration bond for his cousin Hugh Kenny of Ballygreene's (Ballygirreen, Kilnasoolagh) widow Helena.[4]
The Dean appears to have been close to his sister Catherine. She is very involved in helping him to bring the sisters of Mercy to Ennis and to have helped them a lot with their set up both financially and otherwise.[5]
Cecil Kenny recounts, as does his obit in the 'Freemans Journal', that John Kenny was very involved in the Clare elections and with the cause of Daniel O'Connell and as a result was transferred to Kilrush parish from Tulla by the influence of the Vandeleurs. Canon White talks about his attendance at the Clare elections as a prominent supporter of O'Connell in his book on the History of Clare[6] and of the Dean organising helpers to come from Kilrush. The Dean was active in the Repeal movement while Parish Priest of Kilrush (seeking the repeal of the Act of Union) and is mentioned as a speaker at a repeal meeting in Kilrush in November 1843, together with John Kelly. The fact that he is not there for another repeal meeting is mentioned in the report on another meeting.[7] He is also mentioned as a subscriber to the testimonial for Michael O'Loghlen in 1842.[8]
Dean Kenny is active in famine relief and is mentioned in Ignatius Murphy's book on the Diocese of Killaloe[9] that he and his curates lived on Indian meal for a few weeks to prove to the people of Kilrush that is was possible to eat it. In 1847 the Wynne enquiry mentions the tickets for the labourers sent to the relief works by the Rev Mr Kenny were all in order.[10] The report refers to the 'Clare Journal' report of 21st Jan (no year but I think 1846) on the meeting of the Relief Committee for the parish of Killard (including Kilrush) chair Colonel Vandeleur. The meeting was investigating and correcting gross abuses alleged to have taken place in giving employment on the public works.
We are given some insight into his character and his close relationship with his cousin and curate Father Matt. J. Kenny of Freagh in "Soft Dull Day – Trade Blue: the diary of P.J. Dillon, Ennis Draper 1861-1869"[11] where P.J. Dillon talks of Father Matt tearing the clothes off two bad girls in College Road and carrying home the toggeries to the Dean's home as a trophy. He also says that the Dean some years later tried to get him to sack one of his milliners as he disapproved of her conduct.
The Dean was very interested in antiquaries and local history and was a member of the Royal Irish Academy , where some of his letters to Mr O'Donovan are preserved in the Graves Collection. His obituaries mention that he was a fund of knowledge on local history and tradition and very learned but also that he was witty and great company.[12] (This is not the side of him shown in the poem quoted by William MacNamara Downes, temperance poet and songwriter, below). All describe him as tactful and conciliatory.
From 'The Birthplace'
Behold its priest ! The patron of the poor, who ne'er in vain approach his gen'rous door,
While there he preaches to the thronging crowd, each conscious guilty sinner sobs aloud.
An awful murmur swells from every soul & while reproaching sin his passion warms his face the flush of anger ne'er deforms.
At night when careless mirth presides with wine and vice disdaining ev'ry though divine,
This virtuous pastor in his church is found dispensing sacred gospel truths around
Within its halls the heavenly tapers burn and headstrong vice to virtues path returns he like the other lives to sacred fame.[13]
While the Dean was a supporter of the Repeal association he did not support Fenianism. In 1865 P.J. Dillon records that in his sermon the Dean 'strongly admonished the Fenians to desist from their foolish, wicked course and that this was the wrong way to reverse the evil which existed in Ireland.'[14]
The Dean died in 1879.[15] He ministered as a priest for 62 years, 61 as parish priest and retired, due to blindness, for the last 3 years of his life. He had a large funeral concelebrated by many priests and had several obituaries and funeral reports including the 'Freemans Journal', 14 Jan, 1879, on view at: http://www.ourlibrary.ca/phpbb2/viewtopic.php?f=1&t=363.
Notes
1. 'Freemans Journal', Death Notice, 14 January 1879.
2. Murphy, Igantius, 'The Dioceses of Killaloe 1800-1850' (Dublin: Four Courts Press, 1992) and 'The Dioceses of Killaloe 1850-1904' (Dublin: Four Courts Press, 1995).
3. Sisters of Mercy, 'Souvenir of the centenary of the Convent of Mercy: St. Xavier's : Ennis, Co. Clare : 1854-1954' (Dublin: Browne and Nolan).
4. Kenny, Cecil Stacpoole, Genealogies of Kenny and Lysaght, 1915. MS 2108-2110, N.L.I.
5. O'Brien, Sr Pius, 'The Sisters of Mercy of Ennis', 1992.
6. White, Patrick, 'History of Clare and the Dalcassian Clans of Tipperary, Limerick and Galway' (Dublin: MH Gill, 1893).
7. 'Limerick Chronicle', 21 January 1843. 'Limerick Chronicle', 1 November 1843.
8. 'Limerick Chronicle', Testimonial for Michael O'Loghlen, 24 November 1842.
9. Murphy, Igantius, 'The Dioceses of Killaloe 1800-1850' (Dublin: Four Courts Press, 1992).
10. 'Character and conduct of Members for the County Clare in relation to relief works'. Captain Wynne's : Letters. EPPI, 5 July 1847.
11. Sheedy, Kieran, "Soft Dull Day – Trade Blue: the diary of P.J. Dillon, Ennis Draper 1861-1869", 'The Other Clare', vol. 18 (1994).
12. 'Limerick Reporter and Tipperary Vindicator', Obituary, 15 January 1879.
13. Downes, William MacNamara, 'Original Poems and Songs' (Limerick: C. O'Brien, 1833).
14. Sheedy, op cit.
15. 'Limerick Reporter and Tipperary Vindicator', Obituary, 15 January 1879.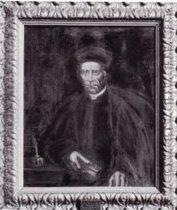 Dean John Kenny.
Reproduced by kind
permission of the
Sisters of Mercy, Ennis.