| | |
| --- | --- |
| Clare County Library | Your Library Your Website |
Adult Non-Fiction
Being the Supervet - How animals saved my life by Noel Fitzpatrick
Noel Fitzpatrick is now one of the leading veterinary surgeons in the world. The journey to that point has seen Noel treat thousands of animals - many of whom were thought to be beyond help - animals that have changed his life, and the lives of those around them, for the better. How Animals Saved My Life is about what it's like to actually be The Supervet. Noel shares the moving and often funny stories of the animals he's treated and the unique 'animal people' he has met along the way.
Cook, eat, repeat by Nigella Lawson
'Food, for me, is a constant pleasure: I like to think greedily about it, reflect deeply on it, learn from it; it provides comfort, inspiration, meaning and beauty... More than just a mantra, "cook, eat, repeat" is the story of my life.' With over 150 new delicious recipes, new TV series Cook, Eat, Repeat is now on BBC Two. Cook, Eat, Repeat is a delicious and delightful combination of recipes intertwined with narrative essays about food, all written in Nigella's engaging and insightful prose.
A life on our planet by David Attenborough
See the world. Then make it better.
David is 93. He has had an extraordinary life. As a young man, he felt he was out there in the wild, experiencing the untouched natural world - but it was an illusion. The tragedy of our time has been happening all around us, barely noticeable from day to day - the loss of our planet's wild places, its biodiversity. He has been witness to this decline. A Life on Our Planet contains his witness statement, and his vision for the future - the story of how we came to make this, our greatest mistake, and how, if we act now, we can yet put it right.

The boy, the mole, the fox by Charlie Mackesy
Discover the very special book that has captured the hearts of millions of readers all over the world. A book of hope for uncertain times. Enter the world of Charlie's four unlikely friends, discover their story and their most important life lessons. The boy, the mole, the fox and the horse have been shared millions of times online. Here, you will find them together in this book of Charlie's most-loved drawings, adventuring into the Wild and exploring the thoughts and feelings that unite us all.
Rage by Bob Woodward
Bob Woodward's new book, Rage, is a tour de force of original reporting on the Trump presidency. Rage goes behind the scenes and notes Trump's moves as he faces a global pandemic, economic disaster and racial unrest. President Trump has said publicly that Woodward has interviewed him. What is not known is that Trump provided Woodward a window into his mind through a series of exclusive interviews. At key decision points, Rage shows how Trump's responses to the crises of 2020 were rooted in the instincts, habits and style he developed during his first three years as president.
The Wild Silence by Raynor Winn
Following the Sunday Times bestselling, prize winning book The Salt Path, Raynor Winn returns with her profoundly moving second memoir.In The Salt Path, Raynor and her husband Moth head to the windswept coastline to try to find a way through homelessness, and ultimately to find themselves. Now in The Wild Silence, they come back to four walls, but the sense of home is elusive and returning to normality is not easy.Raynor and Moth continue to face his debilitating illness, as Raynor struggles to recover trust in herself and others. Until someone who read The Salt Path makes an unbelievable offer and they find themselves living on an overused farm, tasked with revitalising the land and returning the wildlife to its hedgerows. With only their life-long love of each other and the natural world to help them, they begin to rediscover the meaning of home.
Uncomfortable Conversations with a Black Man by Emmanuel Acho
This timely non-fiction book on race and racism from the host of the viral video series Uncomfortable Conversations with a Black Man is an essential guide to systemic racism and how to address it. Emmanuel Acho takes on all the questions, large and small, insensitive and taboo, many white people are afraid to ask – yet which everyone needs the answers to, now more than ever.
Vesper Flights by Helen Macdonald
When the world stopped this year, many people found themselves looking out the window, hearing birdsong replace car horns and watching green buds emerge from the frozen ground. In a moment of darkness, it was a wonderful balm to turn to nature. And in her beautiful collection of essays, Vesper Flights, Helen Macdonald shows us how to better observe and comprehend the scenes around us and to enter, however briefly, the worlds of other living things, whether starlings overhead or mushrooms at our feet. In exquisite prose, Vesper Flights further establishes Macdonald as one of the great nature writers of our time—and as a ringing voice of sorrow against the ravages of climate change. Read her to be enthralled, and read her as warning.
A promised land by Barack Obama
A riveting, deeply personal account of history in the making-from the president who inspired us to believe in the power of democracy In the stirring, highly anticipated first volume of his presidential memoirs, Barack Obama tells the story of his improbable odyssey from young man searching for his identity to leader of the free world, describing in strikingly personal detail both his political education and the landmark moments of the first term of his historic presidency-a time of dramatic transformation and turmoil. Obama takes readers on a compelling journey from his earliest political aspirations to the pivotal Iowa caucus victory that demonstrated the power of grassroots activism to the watershed night of November 4, 2008, when he was elected 44th president of the United States, becoming the first African American to hold the nation's highest office. Reflecting on the presidency, he offers a unique and thoughtful exploration of both the awesome reach and the limits of presidential power, as well as singular insights into the dynamics of U.S. partisan politics and international diplomacy.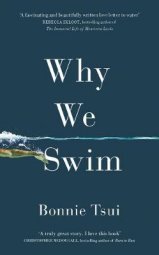 Why We Swim by Bonnie Tsui
In this lovingly crafted exploration of the world of swimming Tsui charts our relationship with water from the earliest humans who swam for survival to the therapeutic powers of moving under water. Filled with incredible stories of endurance and determination, from Olympian athletes to Icelandic fishermen, Why We Swim offers fascinating insights into this quiet and meditative sport.