| | |
| --- | --- |
| Clare County Library | Your Library Your Website |
Adult Non-Fiction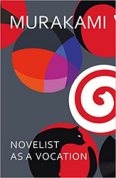 Novelist as a Vocation by Haruki Murakami
Harvill Secker 2022
Readers, writers and fans of Haruki Murakami alike will be enthralled by this fascinating peek inside the master storyteller's mind. The worldwide bestselling author and renowned recluse discusses his opinions on being a novelist, the function of the novel in society, his own beginnings as a writer, and the creative sparks that motivate other authors, musicians, and artists. This intensely personal look at the craft of writing will intrigue readers who have long wondered where the mysterious novelist gets his ideas and what motivates his bizarrely weird universes.
Faith, Hope and Carnage by Nick Cave & Seán O'Hagan
Canongate Books 2022
This is a genuinely nuanced investigation of what actually motivates Cave's life and creativity, as expressed in his own words, and was produced as a result of more than forty hours of close interviews with the journalist Seán O'Hagan. The book draws candidly on Cave's life, from his early childhood to the present day, his loves, his work ethic and his dramatic transformation in recent years. In Faith, Hope and Carnage, a genuine story provides inspiration from a true creative.
Hot Air by Peter Stott
Atlantic Books 2022
The era of global warming is now. Why has it taken so long for the issue to be recognised, despite several dire warnings? Hot Air is the urgent account of how climate science was developed, how it has been repeatedly undermined, and why humanity doesn't have time to waste in the fight to halt climate change. Stott offers a distinct "eye-of-the-storm" viewpoint on the century's most important narrative.
Super-Infinite: The Transformations of John Donne by Katherine Rundell
Faber and Faber 2022
A biography of John Donne, the poet of love, sex, and death, from distinguished scholar Katherine Rundell. By revealing the many facets of Donne's unique life, his obsessions, his fiery words, and his turbulent Elizabethan times in Super-Infinite, Rundell engages in a quick-witted "act of evangelization" that reveals Donne as the most amazing mind and as a lesson in living. This is an extraordinary biography about a man who suffered from black surges of sadness, yet expressed in his verse electric joy and love.
Crying in H Mart by Michelle Zauner
Picador 2021
Musician Michelle Zauner describes her painful adolescence, struggling with her mother's high expectations, being the only Asian-American student at her Oregon school, and the precious months she spent in Seoul with her grandmother. When Michelle was 25 years old, her mother was diagnosed with terminal pancreatic cancer, forcing her to face her identity and reclaim the cultural, linguistic, and historical endowments that her mother had bestowed upon her.