| | |
| --- | --- |
| Clare County Library | Your Library Your Website |
Beginner Readers
Super Happy Magic Forest and the Humongous Fungus by Matty Long
If you're looking for a super silly and funny book packed with fun illustrations this is the book for you. It features a fawn, a unicorn, a fairy, a gnome and a mushroom on an epic quest to defeat Fungellus the humungous fungus. This book has a nice comic feel to it with speech bubbles and would be great for reluctant readers too.
Hotel Flamingo by Alex Milway
A beautiful heartwarming tale of friendship and hard work. The book itself is very appealing and the charming illustrations are all tinged with flamingo pink. Follow Anna as she faces the challenge of restoring the once grand Hotel Flamingo to its former glory. With the chef a pig, handyman a giraffe and cockroaches as guests it is ideal for animal lovers. Look out for the little snail hidden in the pages!
Icarus was Ridiculous by Pamela Butchart
Ilustrated by Thomas Flintham
A light hearted take on the Greek Myths. Four retellings of the most dramatic myths with all the action and adventure of the originals but with lots more sandals! Izzy LOVES all the stories the Ancient Greeks told! She can't wait to tell her friends about Icarus, who was a TOTAL NUMPTY, and the Trojan Horse, which ended a war and wasn't even REAL!
Izzy retells four Greek myths in an effort to help her friends and classmates learn valuable lessons about their behaviour. It's a clever way of looking at the relevance of those myths and legends with plenty of humour and entertaining characters.
Rabbit and Bear by By Julian Gough
Illustrated by Jim Field
A personal favourite. It is the type of book I look forward to reading to my child. Great characters in rabbit and bear and very funny. When a scary thing crashes into the woods, Rabbit is sure it is evil while Bear thinks they should wait and see what it is like when it is awake. Who is right?
As well as being very funny the book also teaches an important lesson about the dangers of judging without actually getting to know someone. The illustrations create a beautiful summer forest setting for the book making you wish you were there too. You will be happy to know there are more books following the antics of these endearing characters. It is perfect for the next step after picture books.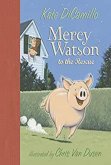 Mercy Watson to the Rescue by Kate DiCamillo
Illustrated by Chris Van Dusen
Another personal favourite series and ideal first chapter book after picture books. This is the first tale in the Mercy Watson series. Mr and Mrs Watson have a pig named Mercy. Mercy is a porcine wonder and treated like their own child. One night, Mercy decides she does not want to sleep in her own bed. This is not, however, so good for the Watsons' bed. BOOM! CRACK! As the bed and its occupants slowly sink through the floor, Mercy escapes in a flash — "to alert the fire department," her owners assure themselves. But could Mercy possibly have another emergency in mind — like a sudden craving for their neighbours' sugar cookies?
Such a charming tale and very funny with big colourful illustrations and well-drawn characters. Be warned you will have a craving for hot buttered toast after reading this book!
Kitty and the Treetop Chase by Paula Harrison
Illustrated by Jenny Lovlie
Calling all cat lovers!
With a charming main character, loads of cats, and striking two-colour art on every page, Kitty is the perfect pick for newly independent readers. Includes fun facts about cats!
Girl by day. Cat by night. Ready for adventure. In the fourth book of this chapter book series, Kitty, a little girl with catlike superpowers, teams up with another superhero to save a bakery from certain disaster. But just because you share superpowers, doesn't mean you can instantly be friends. Friendships take work, and in this case, it's heroic teamwork and a magical midnight feast that bring Kitty and her new friend together.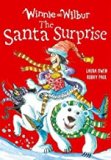 Winne and Wilbur, The Santa Surprise by Laura Owen
Illustrated by Korky Paul
Get ready for flying trains, broomstick sledges, polar bears, penguins, and pole-to-pole travel as you join Winnie and Wilbur on a magical special delivery! As they get ready for Christmas Winnie and Wilbur go an epic quest to make sure Santa gets a present, too.
Part of the bestselling series that celebrates the wonderful relationship shared by Winnie and her cat, Wilbur. Since 1987 they have been delighting children and adults all over the world and more than 7 million books have been sold.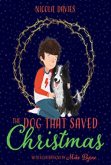 The Dog that Saved Christmas by Nicola Davies
Illustrated by Mike Byrne
Jake is different from the other kids at school. He struggles when routines change and people's emotions are so hard to understand. Christmas can be even worse and often the festivities are just too much to bear. But when Jake finds a little dog lost in the street he unlocks a connection he's never had before. Together Jake and Susan form a special bond that helps him to understand the world around him, changing his life for the better. Particularly suitable for struggling, reluctant or dyslexic readers.
Rose's Dress of Dreams by Katherine Woodfine
Illustrated by Kate Pankhurst
Young Rose dreams of sewing beautiful dresses for the women of Paris. But when a chance encounter with royalty changes her life, Rose must draw on all her skills to create the most breathtaking dress of them all. Based on the life of Rose Bertin, the woman credited with creating haute-couture, this is a story to inspire bold girls and boys everywhere.
Jasper and Scruff by Nicola Colton
Jasper has everything he could want - a fancy apartment, bow ties in every colour and a large book collection. The only thing he's missing is the right type of friends! Jasper wants to become a member of 'The Sophisticats', a society for exceptional felines, more than anything. When they accept Jasper's dinner invitation, he knows his chance to impress has arrived. But on the morning of the party, a boisterous puppy called Scruff follows Jasper home and his evening doesn't quite go to plan...