| | |
| --- | --- |
| Clare County Library | Your Library Your Website |
Irish Fiction
Love by Roddy Doyle
One summer's evening, two old friends meet up in a Dublin restaurant. Joe has a secret he has to tell Davy, and Davy, a grief he wants to keep from Joe. As the two friends try to reconcile their versions of the past over the course of one night, Love offers up a delightfully comic, yet moving portrait of what love, in its many forms, can take throughout our lives.
Home stretch by Graham Norton
On the eve of a wedding, three young people including the bride and groom are tragically killed in a car accident. Three people survive the accident and the novel follows the devastating effects the event has on their lives. The book also examines the stigma, shame and secrecy attached to sexual identity in 1980s Ireland and the shift in social attitudes over the three decades following the accident. Norton's third novel is an engrossing read.
After the silence by Louise O'Neill
When a documentary crew arrives in Inisrún in an attempt to unveil the truth of what happened when Nessa Crowley was murdered, many secrets from the island are uncovered.
O'Neill ties in themes of abuse and suffering to create a page-turning storyline that follows the murder and shows that deadly secrets are devastating to those who hold them close.
The searcher by Tana French
Cal Hooper thought a fixer-upper in a remote Irish village would be the perfect escape. After twenty-five years in the Chicago police force, and a bruising divorce, he just wants to build a new life in a pretty spot with a good pub where nothing much happens.
But then a local kid comes looking for his help. Soon Cal will discover that even in the most idyllic small town, secrets lie hidden, people aren't always what they seem, and trouble can come calling at his door. A compulsive psychological thriller
Art of the Glimpse: 100 Irish short stories by Sinead Gleeson
The Art of the Glimpse is an eclectic wide-ranging collection of 100 of the best Irish short stories, giving voice to the forgotten or overlooked alongside the famous and familiar. There are stories from literary giants; tales celebrating Traveller heritage; and work from the first wave of "new Irish" writers. The stories range from the classic to the contemporary featuring a wide range of styles and themes. All readers will find a story to connect to in this collection.
Snow by John Banville
On a snowy winter's day, Detective Inspector St John Strafford is dispatched from Dublin to County Wexford to investigate the murder and mutilation of a Catholic priest in a Protestant house. Faced with obstruction from all angles, he carries on determinedly in his pursuit of the murderer. However the people of Ballyglass are equally determined to keep their secrets. Snow is a literary Agatha Christie style whodunit which leaves you guessing to the very end.
A page from my life : a selection of stories from Ray D'Arcy show listeners
2,500 entries were received when The Ray D'Arcy Show invited RTÉ Radio 1 listeners to send in 'A Page From My Life': 500 words from anyone, anywhere on the island, and beyond.
The judges selected 150 of the best of these super-short stories on themes of childhood and family, the remarkable everyday, love and loss, and, of course, humour.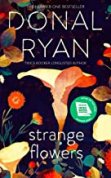 Strange Flowers by Donal Ryan
When a young woman vanishes from her parents' home in rural Tipperary it can mean only one of two things: "Moll Gladney was either pregnant or dead, and it was hard to know which one of those was worse." When Moll finally returns, she brings with her a newness that the people of her town have never seen. Strange Flowers is a beautifully written portrayal of love, loss and home.
A thousand moons by Sebastian Barry
A sequel to Days Without End, this novel follows Winona – the adopted Native American daughter of cross-dressing soldiers Thomas McNulty and John Cole – as she seeks revenge for a sexual assault, donning men's clothing to move undetected in their world. The novel is a powerful, moving study of one woman's journey, of her determination to write her own future, and of the enduring human capacity for love.
As You Were by Elaine Feeney
This tragicomic tale of a thirtysomething mother with a terrible secret serves as a keen-eyed portrait of modern Ireland. Faced with a shattering diagnosis, Sinead has confided only in Google and a shiny magpie. But while in hospital in Galway, she bonds with the other, very different, patients on her ward. A funny, yet sad portrayal of the kindness of strangers, the kinship of women and the heartbreak of love.