| | |
| --- | --- |
| Clare County Library | Your Library Your Website |
Adult Irish Non-Fiction
Listen to the Land Speak by Manchán Magan
Gill Books 2022
Manchán Magan's newest book is a continuation of his exploration of Ireland's relationship to the land, nature and our ancestor's connection to it through language and history. In this book, Manchán Magan sets out on a journey, through bogs, across rivers and over mountains, to trace these ancestor's footsteps. For lovers of language, history and folklore - this book will inspire you to examine our countryside with a deeper curiosity and understanding.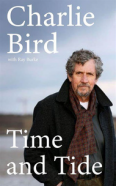 Time and Tide by Charlie Bird
Harper Collins 2022
This is a poignant memoir from Irish journalist and broadcaster Charlie Bird, where he reflects on his life and phenomenal broadcasting career. In 2021, Charlie Bird was diagnosed with motor neuron disease and since then his courageous and public acceptance of the challenges of the disease has been an inspiration to many. Written through the lens of his diagnosis, Charlie ponders the big questions and takes stock of the small moments that we so often overlook.
Kellie by Kellie Harrington with Roddy Doyle
Sandycove 2022
After Kellie Harrington won gold at the Tokyo Olympics, the Irish public recognized her as not merely a sporting hero, but a deeply inspirational human being. Now, Kellie tells the story of her unlikely journey to the top, and of the many obstacles and setbacks she overcame along the way. This is an inspiring read about staying healthy in mind a body while navigating modern life, being a young woman in a historically male dominated sport and staying true to your roots and beliefs.
Age Proof: The New Science of Living a Longer and Healthier Life by Professor Rose Anne Kenny
Lagom 2022
Professor Rose Anne Kenny has 35 years of experience at the forefront of ageing medicine. In Age Proof, she draws on her own research and the latest evidence to demystify why we age and shows us that 80% of our ageing biology is within our control: we can not only live longer lives but become happier and healthier deep into our later years. This is a fascinating insight into the science and mental attitude towards ageing. A perfect gift for the investigative minded ones in your life.
Daly Dish – Bold Food Made Good by Gina and Karol Daly
Gill Books 2022
Bold Food Made Good is jam packed full of recipes for those yummy comfort foods
but with a healthy twist. This is the third book in the Daly Dish series so far, all based
on the same premise – you can have treats without the guilt. The recipes are easy to
follow with simple wholesome ingredients, high in protein, low GI, with sugar
alternatives and healthy cooking methods. This would make a great gift for students
living away, or if you have hungry teens in the house.